Koura Beletita Belgian Golden Strong Ale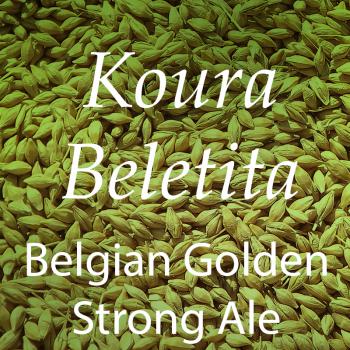 Title:
Koura Beletita Belgian Golden Strong Ale - Whole
Beer Description
This Bold statement of a beer is a whopper, coming in at around 9.1%, It has subtle toffee/caramel notes nicely backed by the soft floral bouquet of the Noble hop Czech Saaz. Bumping up the O.G is a Kg of Dextrose, and to help to crisp the brew we've added in some Sour Grapes.
Total Grain Weight: 6.35Kg
Ingredients:
Gladfield American Ale
Gladfield Sour Grapes
Gladfield Toffee
Dextrose
Newport
Czech Saaz
*includes
Beer Nutrient
Kettle Finnings
Makes: 23 Litres
Colour: Warm Gold
IBU: 27.4
OG: 1.079
FG: 1.010
ABV: 9.1%
NOTE: This recipe pack does not include yeast.
We suggest using either 2 packs of Belgian Ale II 1762 (or 1 and make a starter) or 2 packets of Safale BE256 yeast. Yeast is in the quick add section below
Our recipe packs are packed on the day you order to ensure freshness of both grains and hops.
Quantity:
6.35 Kg of Malt + 1 Kg Of Dextrose