Guten 40L Microbrewery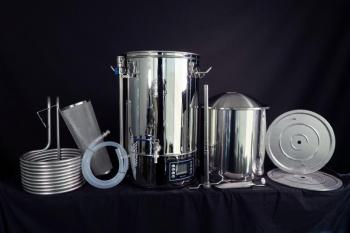 Title:
Guten 40L Microbrewery
The New 2021 Edition Keg King Guten 40L Brewery Systems are reliable, solidly built from AISI 304 Stainless Steel and offer flexibility in their use for brewery or distillation processes.
These systems provide brewers with a fast, easy to use, space-efficient way to enjoy all-grain brewing and distilling in a 10Amp plug and play package that offers everything required to start brewing.
The 40L system is perfect for a 23 to 25 litre (6 gallon) batch of beer, with plenty of headspace to get a hearty rolling boil.
The NEW features of the 2021 Edition Keg King Guten 40L Brewery Systems include:
NEW Stainless Steel Domed Distillation lids - with 47mm Hole for attaching distillation equipment
NEW Lock-in Bottom Screens for the mash pipe – no more screen slippage
NEW Telescopic Overflow Pipes – set to any length within your system
NEW Malt Pipe Handle – easier to use with a pulley if required
NEW Flexible Pump Return – set anywhere on your top screen
NEW Lid Clamps – for holding the lid in place during distillation
The grain capacity of these units is approx. 8+kg depending on the malt bill.
The built in pumps provide excellent recirculation performance during mashing, helping to produce bright, clear wort for fermentation.
Brewers can decide where to select the adjustable power control anywhere from 100w to 2400w in order to provide accurate temp control without scorching. Plus, these control boards provide the ability to select temperature settings in 1/10th of a degree increments with a range from 25C to 100C.
Keg King Guten Brewery Systems are recognised and respected worldwide for their ease of use and excellent performance. Brewers can monitor and control the mashing process with the programmable digital controller attached to the base of the vessel where they can program up to 10 temp steps and 10 alarms for kettle additions. There is also the capability of storing 10 customised brewing recipes so brewers can get consistency in process.
The 40L Keg King Guten 40L Brewery System includes:
Programmable controller with digital display
Integrated magnetic drive pump, can be operated separately
Stainless Steel Bazooka filter
Removable Stainless Steel ball valve ½" with nozzle
Stainless Steel Domed Distillation Lid with 47mm hole
8 metre Stainless Steel Immersion Chiller of 12.7mm diameter tubing
Hop Spider
Telescopic Stainless Steel overflow pipe
Silicone plug for the overflow pipe
Stainless Steel Locking bottom mash screen
Stainless Steel top mash screen with handles
Stainless Steel pulley compatible mash pipe handle
Spare pump elbow with zip-tie clamps
3 year warranty
These systems are the ideal size for space conscious brewers: Dimensions brewing kettle H x W = 57.5 x 35.0 cm
220-240V, 50Hz
Guten User Manual can be found HERE
This pricing is for Pre Orders only. Delivery is expected in March.