Got Nuggs NEIPA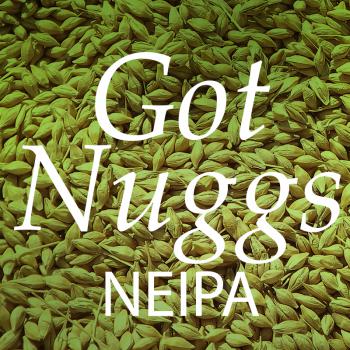 Title:
Got Nuggs? NEIPA Whole
Beer Description
This hazy brew is our take on a bright New England IPA, but with a hop twist. Nugget is combined with Chinook and a hint of Mosaic to envelop your taste buds with a mix of hints of spice paired carefully with pine and grapefruit, getting a last pinch of tropical fruits and citrus from the Mosaic and Citra dry hop.
Total Grain Weight: 6.05kg
Ingredients:
Gladfield American Ale Malt
Flaked Oats
Gladfield Gladiator
Nugget
Chinook
Mosaic
Citra
*includes
Yeast nutrient
Kettle finings
Makes: 23 Litres
Colour: Hazy Bright Gold
IBU: 84
OG: 1.061
FG: 1.014
ABV: 6.2%
NOTE: This recipe pack does not include yeast.
We suggest using either 2 packs of 1318 Lonon Ale III or WLP066 London Fog (or 1 and make a starter). Yeast is in the quick add section below
Our recipe packs are packed on the day you order to ensure freshness of both grains and hops.