Black Rock American Pale Ale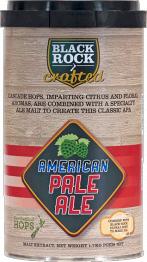 Title:
Black Rock American Pale Ale
Black Rock Crafted American Pale Ale is brewed with Caramalt and Roasted specialty malts for a typical APA flavour and pale brown colour. NZ Green Bullet and Pacific Gem hops are added at the boil to provide a moderate-strong bitterness. Black Rock APA is is already dry-hopped with Cascade to infuse a delicous grapefruit and citrus aroma. Brew with Black Rock Ultra-Light LME, or combine 2 cans of APA for a more powerful hop aroma and bitterness. Try brewing this recipe with a specialty US ale yeast like Safale US-05 for even better results.
This Kit requires either Dextrose, an enhancer, an additional can of plain malt extract, or pair with a second can of APA for an ever fuller flavour
Contents:
Malt: 74% Ale, 13.6% Lager, 12% Caramalt, 0.4% Roasted
Hops, Bittering: Green Bullet, Pacific Gem, Dry Hops: Cascade
This promotional price is strictly whilst stocks last. Some stocks are very limited.