Keg Master - Grand Deluxe GD125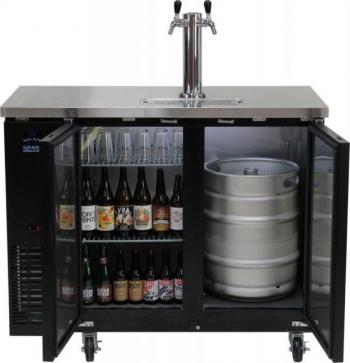 Title:
Keg Master - Grand Deluxe GD125
Next shipment arriving October. Contact us to order: info@thebrewhouse.co.nz
Quick Overview
The Grand Deluxe Range designed with the bar and restaurant industry in mind. The Grand Deluxe line of kegerators are built to stand up to heavy use in a commercial environment. Made with the best German designed Danfoss/Secop compressor, high quality 304 grade bench top and internal lining, heavy duty enamel coated lockable doors and integrated drip tray are all things that distinguish this line of kegerators from the rest.
Specifications:
Temperature Cooling Range: -4C ~ 30C
Exterior Dimensions: (W*D*H) 1240 x 620 x 920 (mm)
Height including castors 1035mm
Interior Dimensions: (W*D*H) 920 x 510 x 788 (mm)
Internal Volume: 370L (approx.)
Side Material: Black Enamel Coated
Counter Top Material: 304 Grade Stainless Steel
Weight: 140kg
Weight Including Packaging: 160kg
Compressor: Danfoss/Secop
LED Light: 5 Watts Approx.
Font Fan: 20 Watts Approx.
Automatic Defrost: Yes
Self-Closing Doors: Yes
Note: these units do not include taps or fonts as shown in the picture.
NOTE: Shipping will need to be organised by customer. Please choose store pick up as freight optioner.
Shipping Estimate: Find out approximately how much shipping will cost through Mainfreight using their: Mainfreight Estimator