Keg Master GD60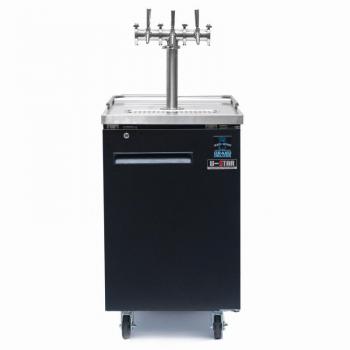 $1,599.00
Special
$1,399.00
Contact us to order info@thebrewhouse.co.nz
Keg King Grand Deluxe Keg Refrigerators provide high capacity, high quality display fridges for draft systems. This commercial grade, under-counter line of fridges has been purpose built to suit draft systems serving kegged beverages in all sizes up to 50 litre. The Grand Deluxe line of fridges is ideal for bars, restaurants, cafes, shops and serious beer enthusiasts. With the heavy duty castor wheels installed, Grand Deluxe fridges are perfect for use as a portable service bar for trade shows or temporary events. With self-closing, lockable doors and LED interior lighting, Grand Deluxe fridges provide professional and attractive impact in any environment. These fridges can simply be wheeled into place, ready to use.
Each Keg King Grand Deluxe is fitted with a durable stainless steel countertop, interior walls, floor and ceiling. The exterior construction is attractive, corrosion resistant vinyl on steel in a black finish. An all stainless steel exterior option can be made available upon request.
Keg King Grand Deluxe Keg Refrigerators are fitted with a powerful compressor and easy to adjust digital temp controller system to keep your drinks at safe temperatures with a range from .5C° to 5C°. Triple internal air circulation fans ensure the temp in the fridges is balanced and even throughout with no warm spots. Each unit uses HYDRO-CARBON R290 refrigerant, which is environmentally friendly and more efficient that R134a or R404a refrigerants.
Removable adjustable heavy-duty PVC coated shelving and glass doors provide users with the ability to showcase their wares of bottled and canned beverages in an undercounter fridge or swap the shelving for more kegged beverage space.
Cleaning and maintain the Keg King Grand Deluxe Keg Refrigerators is simple. Each fridge is fitted with counter top recessed drip trays connected to drainage tubes. By simply pouring warm, soapy water over the drip tray users can rinse the tray into the drainage plumbing, the end of which can either be placed into a bucket or into the area's closest floor drainage outlet.
Keg King Grand Deluxe Keg Refrigerators require minimal installation work to set up and start using. As a freestanding unit, the only question is how many fonts and taps your system will require in relation to how many beverage options you would like to provide to your customers. Fonts and taps do not come with the Keg King Grand Deluxe Keg Refrigerators. Each fridge is fitted with either one or two font tower attachment openings in the surface of the fridge countertop located centrally behind the recessed drip trays.
Keg King Grand Deluxe Keg Refrigerators are Australian Approved/Certified and Keg King are proud to be the exclusive suppliers of these models.
Dimensions W x D x H: 596 x 772 x 905
Height addition for castors: +100
Capacity: 1 ½
Doors: 1
Shelves: 1
HP: 1/6
NOTE: these units do not include taps or fonts as shown in the picture.
NOTE: Shipping will need to be organised by customer. Please choose store pick up as freight option
Shipping Estimate: Find out approximately how much shipping will cost through Mainfreight using their: Mainfreight Estimator Mainfreight Estimator
This product has had a delay due to Covid, and whilst due in March. it has now been delayed until Mid-Late June. Pre-ordering will guarantee supply from on this shipment. Any other products ordered with this will be sent in one delivery.