Guten 50L Microbrewery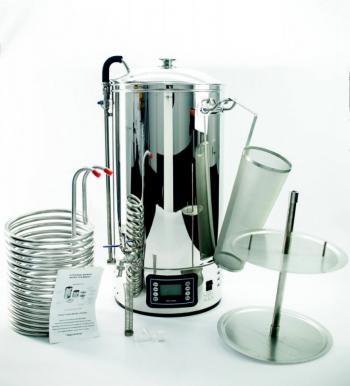 Title:
Guten 50L Microbrewery
This new model features:
Distillation compatible lid.
Locking false bottom, snug and secure design.
Telescopic overflow pipe. Set the perfect wort level during your mash depending on your batch size.
Improved malt pipe lifting handle, easily attach a pulley.
Flexible pump return, simpler design and less channelling.
The Keg King Nano-Breweries are reliable, robust, all in one brewery systems that come in two sizes. These systems provide brewers with a fast, easy to use, space-efficient way to enjoy all-grain brewing. The smaller size Guten 40 is perfect for a 23 litre (6 gallon) batch of beer, while the Guten 50 litre system has a 52L kettle capacity filled to the brim and can provide enough room and power to do a 'double batch' of 45L.
All-grain brewing is the best way to brew a more finished tasting, authentic beer than using liquid or dry malt extracts. The Keg King Nano-Brewery systems have the ability to perform mashing, filtering and boiling in one vessel.
With their hearty stainless steel construction they are designed for long term enjoyment. Guten systems are recognised and respected worldwide for their ease of use and excellent performance. Brewers can monitor and control the mashing process with the programmable digital controller attached to the base of the vessel where they can program up to nine alarms for mashing, boiling and hopping. There is also the capability of storing 10 customised brewing recipes.
50L MCH Australia Guten Nano-Brewery
The MCH Australia Guten Nano-Brewery is an automatic all-in-one, stainless steel brewing system, capable of effortlessly brewing up to 45 litres of wort.
Brewers control and monitor the mashing process with the programmable digital display controller. Thanks to the integrated malt pipe with adjustable stainless steels malt screens, you no longer need a separate tank for filtering.
With a full operating capacity of 3,000 watts you bring your filtered wort quickly to the boil.
The 50L MCH Australia Guten Nano-Brewery includes:
capacity: 45 litre (total volume = 52 litre)
ideal size: dimensions brewing kettle H x W = 69 x 35 cm
stainless steel AISI 304
power: adjustable from 100 to 3,000 W, in 100 W increments
15amp cord and AU standard plug (requires 15amp socket)
SST malt pipe holds up to 12 kg, with adjustable SST screens and removable handle for lifting
integrated SST circulation pipe with SST valve for regulating flow
integrated magnetic drive pump, can be operated separately
programmable controller with digital display
programme up to 9 brewing steps and up to 9 hop additions
alarm/reminder function & manual override function
memory for saving up to 9 recipes
temperature range: 25 – 100°C; division: 0.1°C
clear LCD screen
SST bazooka filter
removable SST ball valve ½" with nozzle
Distillation compatible stainless steel lid
SS Immersion Chiller
Hop Spider
3 year warranty
Updated Instruction Manual Available
HERE
This product is on Pre Order and is due to arrive late October. Pre-ordering will guarantee supply from on this shipment. Any other products ordered with this will be sent in one delivery.