Digital Oven/Brewing Thermometer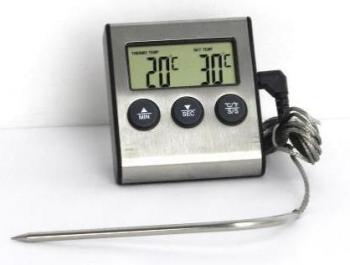 Title:
Digital Oven/Brewing Thermometer
These inexpensive digital oven thermometers go from 0°C-250°C. The magnet of the back of these enables you to
stick them to your fridge or brewery. The thermometer probe is on a heat resistant stainless braided cord that is
120cm long can go up to 300°C and the stainless probe is 4mm in diameter
The thermometer also comes with a temperature alarm and a time alarm. So you can set an audible alarm to go off at a specific set temperature or a use the countdown timer.