Ace Of Spades IPA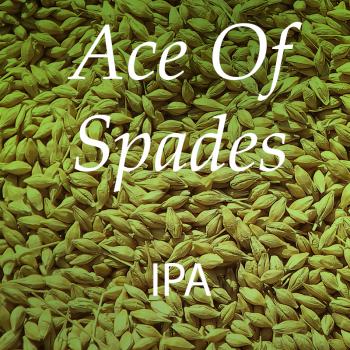 Title:
Ace of Spades IPA (whole)
Beer Description
This American IPA has been made to balance our the strong lemon characteristics supplied by Sorachi Ace with the more subtle Earthy-Spicy-Floral characteristics from both Columbus and Ahtanum. It's light malts in this brew allow for a beautifully bright brew, but with a touch of haze from Flaked Oats which adds a depth of mouth feel to the mix too!
Total Grain Weight: 6Kg
Gladfield American Ale
Gladfield Gladiator
Flaked Oats
Sorachi Ace
Ahtanum
Columbus
*includes
Beer Nutrient
Kettle Finnings
Makes: 23 Litres
Colour: Light Copper
IBU: 39
OG: 1.061
FG: 1.014
ABV: 6.2%
NOTE: This recipe pack does not include yeast.
We suggest using either 2 packs of American Ale II 1272 (or 1 and make a starter) or 2 packets of Safale US-05 yeast. Yeast is in the quick add section below
Our recipe packs are packed on the day you order to ensure freshness of both grains and hops.