Star San Tm Acid Sanitiser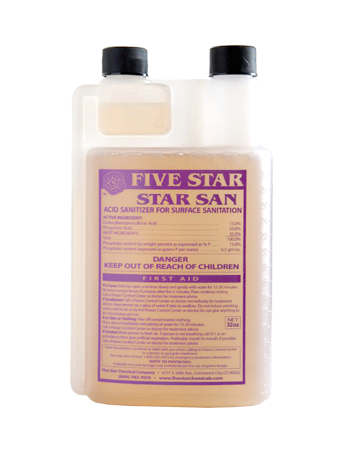 Title:
Star San Tm Acid Sanitiser
 BENEFITS  Broad Spectrum Bactericide and Fungicide  Not Affected by Organic Materials  No Rinse Requirement When Used at 300 ppm STAR SAN is a blend of phosphoric acid and dodecylbenzenesulfonic acid. This synergistic blend provides a unique killing system that is unaffected by excessive organic soils. STAR SAN is also a self-foaming sanitizer. It can be applied through a foamer to produce self-adhering sanitizing foam for external sanitation. STAR SAN is also an excellent sanitizer for hand application. Sanitizing with STAR SAN on a daily basis will leave equipment in an acid condition that will eliminate water spotting. It is not recommended to use STAR SAN on soft metals because of the acid nature of this product.If you are going to mix a solution and store it, use distilled water, as the minerals found in tap water will affect the amount of time that Star San will remain effective.