Black Rock NZ Company Bitter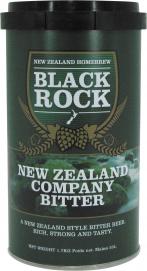 Title:
Black Rock NZ Company Bitter
<Purchase two Black Rock Beer Kits and Receive a FREE Black Rock T-Shirt. While Stocks last, please put size in comments section at checkout. Sizes available S,M,XL,4XL .
Originally brewed in England for the long voyage to New Zealand. Rich, strong and tasty
Typical Analysis: 25+/-3 EBC (Colour), 30+/-4 EBU (Bitterness)
This Kit requires either Dextrose, an enhancer or an additional can of plain malt extract
To obtain optimal results it's also recommended to change the yeast. For this kit we recommend the Safale S-04.
Contents:
Malts - lager,crystal,black malt
Hops - Green Bullet, Pacific Jade
Water
Yeast (under the lid)
Caramel
Hop extracts may be present.