MJ Craft Series Columbus APA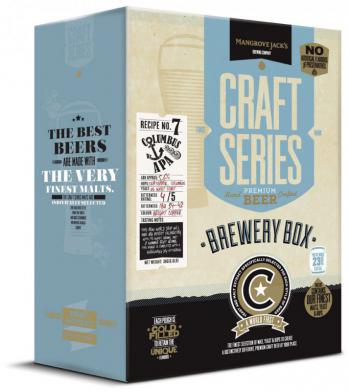 Title:
MJ Craft Series Columbus APA
A new world beer comes from a fearless voyager. The Columbus APA will have any patriot celebrating its fragrance of sweet caramel malt flooded with summer fruit, armed with heroic Columbus hop aroma. That long journey of aromas is completed with tastes of pine needle and a lingering dry bitterness. This refreshing drop will start an immediate mission, thankfully not over the Atlantic, to refill the vessel.
Centennial: Medium Intensity floral and citrus (lemon) tones.
Columbus: Pungent, black pepper, licorice characteristics with subtle citrus overtones.
Style: American Pale Ale
ABV Approx: 5.6%
Bitterness: IBU 34-42
Bitterness: 4/5
Colour: Bright Copper
Note this kit needs 650 grams of dextrose
Brand:
Mangrove Jacks Craft Series Brewery Box
Contents:
Malt, Yeast (Mangrove Jack's Beer Yeast US West Coast 10 g), Hops