Mangrove Jacks Starter Kit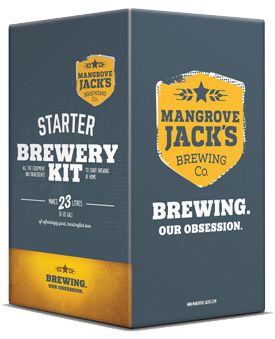 Title:
Mangrove Jacks Starter Kit
Get tagged by a mate on Facebook? Put their name in the comments section at checkout and they will get 10% off their next purchase :
This Starter kit includes everything you need to start making beer.
Included in the box:•30 Litre Fermenting Barrel•Tap•Airlock Grommet•Airlock•Stick-on thermometer strip•39cm Stirring spoon•Cleaner sachet •Sterilizer sachet•Mangrove Jacks Pale Ale Beer kit•1 kg Brew Enhancer Pack•Beer/Wine Hydrometer•Bottling Valve•60 Carbonation Drops•Bottle Brush
Note: The kit included makes 23 Litres.