Coopers Brewmaster Pilsner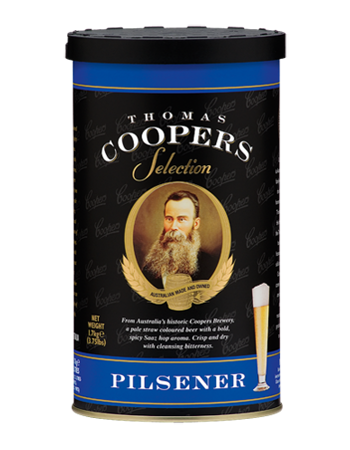 Title:
Coopers Brewmaster Pilsner (passed Best Before)
NOTE: Best Before 21/05/2016
: A pale straw coloured beer with a bold, spicy Saaz hop aroma. Crisp and dry with cleansing bitterness, Thomas Coopers Pilsner is made from premium 2 - row pale malt and barley, bittering hops and a generous amount of aromatic Saaz hops. Fermentation with the true lager yeast, supplied, at temperatures below 20c will produce an excellent example of the pislner style.
This kit requires either Dextrose, an enhancer or an additional can of plain malt extract
To obtain optimal results it's also recommended to change the yeast. If you have a temperature controlled environment we recommend the Saflager S-23 for Lagers, and W-34/70 for Pilsners.
If you don't have any temperature control then you can replace the yeast that comes with the kit with Safale US-05.