Black Rock Mai Bock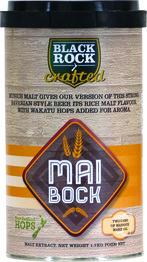 Title:
Black Rock Mai Bock
Purchase two Black Rock Beer Kits and Receive a FREE Black Rock T-Shirt. While Stocks last, please put size in comments section at checkout. Sizes available S,M,L,4XL .
Crafted Maibock is Black Rocks' take on this traditional Bavarian style. Munich and lager malts combine for a rich malt character, with a selection of New Zealand hops for a moderate bitterness.
An addition of New Zealand Wakatu hops, (formerly NZ Hallertau Aroma) at the canning stage allows them to be infused into the malt extract for a subtle lime citrus hop aroma.
Brewers wanting to replicate the stronger style of traditional bock beers could combine 3 cans of Maibock to make 23L.
Colour: Typical Analysis (2 cans): Colour 16 EBC, Bitterness 16 EBU